Contact
Borough Hall
Phone: 856-783-0284
Ext 124
VOLUNTEERS NEEDED
SENIOR AFFAIRS COMMITTEE MEETING
MEETINGS OF THE SENIOR AFFAIRS COMMITTEE WILL BE HELD ON THE THIRD THURSDAY OF EACH MONTH AT 6:00 PM.
The John Lesher Senior Center is always welcoming new participants and volunteers.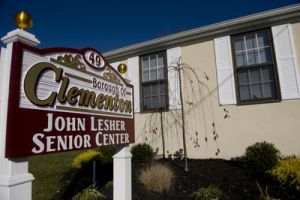 SEEKING SENIORS WITH SKILLS:
DO YOU HAVE A SKILL OR HOBBY THAT YOU WOULD LIKE TO SHARE WITH OTHER SENIORS?
WE MAY BE LOOKING FOR YOU IN OUR MEMBERSHIP!!
CONTACT COUNCILWOMAN HOLLY STROBL
CLICK HERE TO EMAIL
MONTHLY EVENTS
Arts and Crafts will be held on the 1st and 3rd
Thursday  of each month from 1PM-3PM.
Bingo and Cards are played every Tuesday beginning at 10:30AM.