Contact
Main Number: 856-783-0284
Jenai Johnson
Municipal Clerk/Administrator
Extension 124
Lisa West
Deputy Clerk
Extension 124
Jacqueline Quicksill
Deputy Registrar
Extension 112
PENDING LEGISLATION:
ORDINANCE 2020-10 
Amend Salary Ordinance
ADOPTED
ORDINANCE 2020-11 
General Improvements
ADOPTED
ORDINANCE 2020-12
Sewer Utility Bond
ADOPTED
ORDINANCE 2020-13 
Water Utility Bond
ADOPTED
ORDINANCE 2020-14 
AMENDING SALARIES AND WAGES
ADOPTED
ORDINANCE 2021-01 
Establish Salaries
ADOPTED
Ordinance 2021-02 
Amending Chapter 243 Stormwater Control

COLA

ZONING 298 Amendment

BOND ORD. WATER UTILITY CAPITAL

Bond Ordinance General capital

Bond Ordinance Sewer Utility Capital

Creating Short Term Rental Chapter

Amending Chapter 51 Police Department

ADOPTED

ADOPTED

ADOPTED

INTRODUCED

INTRODUCED

INTRODUCED

INTRODUCED

INTRODUCED
OPRA REQUESTS
Request for Government Records can be made in the Municipal Clerk's Office during normal business hours of the Borough Hall.
Any Police Records may be requested in the Police Department, located at 101 Gibbsboro Road during regular business hours and will be processed by the Chief of Police, Deputy Record Custodian for police related records.
A response to all requests for records will be generated within 7 business days of submission, in accordance with the Open Public Records Act.
For additional information, you may contact the Municipal Clerk's Office at 856-783-0284 Ext 124.
Please contact Chief Charles Grover for any police related record inquires at 856-783-0284 Ext. 130.
Vital Records are available in the Office of the Municipal Clerk for any birth, death, or marriage that occurred in the Borough of Clementon. Requests for any vital record will be processed in the order in which they are received, with a 24 hour turn around time. Please be sure to bring valid identification and proof of relationship to the individual .
Certified copies of a vital record may only be issued to persons who establish themselves as the subject of the vital record, the subject's parent, legal guardian or legal representative, spouse, child, grandchild or sibling.
The fee per certified copy is $25.00.
Applications for Marriage, Domestic Partnerships and Civil Unions are accepted during normal business hours.
Please contact the Office of the Municipal Clerk at extension 112 for further information.
Vital Records Application
BE SURE TO RENEW DOG AND CAT LICENSES BY March 31st OF EACH YEAR TO AVOID ASSESSMENT OF $12.00 LATE FEE (SENIORS $6.00)
All dogs and cats are required to be licensed upon reaching 7 months of age.
Proof of a current rabies vaccination and spayed/neutering must be supplied. Renewal applications may be mailed in with the appropriate fee via check and your license and tags will be mailed to you. You can also come to the Borough Hall Monday through Thursday from 7:00 am to 5:00 pm. Evening hours are available every Wednesday until 8PM for your convenience. If you have any further questions, please feel free to contact our office at 856-783-0284 at extension #112.
DOG LICENSING FEE
Dogs Neutered/Spayed: $7.50, Seniors: $4.35
Dogs Not Neutered/Spayed: $10.50, Seniors: $7.35
CAT LICENSING FEE
Cats Neutered/Spayed: $6.20, Seniors: $3.10
Cats Not Neutered/Spayed: $9.60, Seniors: $4.80
2020 animal license application
Please note that applications will not be accepted and 2020 licenses may not be issued until January 1, 2020.
Pursuant to the Provisions of P.L. 2017, Chapter 189 b, each municipality must post on their website and  provide all persons licensing dogs with a copy of the following documents:
Guide to Prevention, Cruelty laws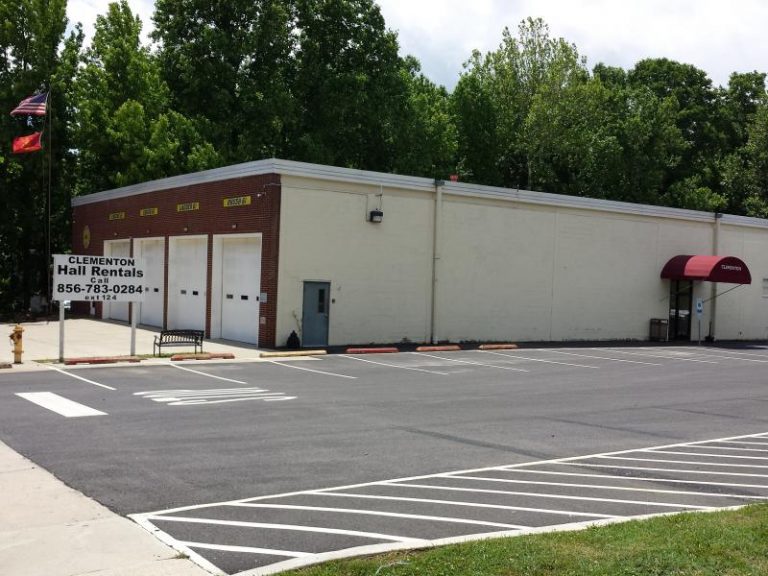 COMMUNITY CENTER RENTAL
The Borough of Clementon maintains a Community Center Facility for the public good.
Municipal Facilities are now available for rental by the general public on a daily basis between the hours of 8am-12 midnight.